Jan23
Comments Off on About Us
" SOLID JEWELRY FOR ALL"
Blatantly loud striking designs are obstructive to the person who has experienced much in life and established their own personality.We aim to create the highest quality jewelrys/accessories that will best suit their owners, and add an extra something to their lives.
Since our establishment in 1990, we have been manufacturing high quality original jewelry with such themes as "love," "peace," "freedom," "equality," and "courage." Dr MONROE's original jewelry has responsibly had its materials chosen, and been designed, manufactured and finished entirely within Japan by our company and carefully selected outsourced craftspeople of outstanding ability.From traditional techniques inherited from ancient times to such cutting-edge technology as lasers and 3-D CAD, our craftspeople enthusiastically strive to make the most of their expert technique, and produce jewelry of uncompromising quality.
"MISSION"
Through original jewelry made with themes such as "love," "peace," "freedom," "equality," and "courage" in mind, we hope to help our customers to enjoy a fashionable, warmhearted life, and also hope to realize a world without such things as war, poverty and discrimination.
"LOGO MARK"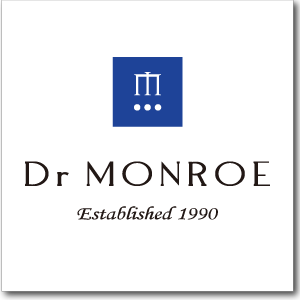 This letter "M" contains a motif of a shrine which rises up into the deep-blue sky. The three supporting circles represent the three design features of Dr. Monroe, "Design", "Quality", and "Service". All of Dr. Monroe creations are examples of the three elements used to build his structures. The highest levels of design, skill, and passion that the people of ages past poured into their shrines captivate us even more so today. To give our best in the pursuit of the creation of products which transcend the times. This is the desire of Dr Monroe contained within this emblem.